Tarmac Driveways in Sheffield
If you are looking to get a tarmac driveway or pathway installed at your home or business premises in Sheffield, contact the specialist team at Northern Driveways Sheffield. We have been leading installers of tarmac driveways in Sheffield for over 20 years' and are a widely known family business with high standards of workmanship at extremely competitive prices.
Our specialist Sheffield tarmacadam team can not install tarmac driveways but additionally pavements, access roads, footpaths and children's play areas. We provide custom tarmac and other services to suit all of your needs and requirements.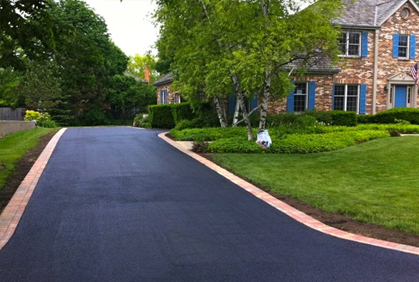 Trusted Local Paving Firm
Trust is hugely important to us, from living up to our promise to make our clients happy, to the word-of-mouth referrals and recommendations that bring new business into our company.
Why Choose Tarmac For Your Driveway?
Tarmacadam (typically referred to as tarmac) is known as one of the most efficient ways to pave a path, driveway or any large area which will be used by vehicles. Its smooth, solid finish supplies a professional look whilst protecting vehicles from the hazardous perils associated with sloping surface areas.
We are able to surface driveways by applying a layer of tarmacadam over concrete or even existing tarmacadam which has become worn. Resurfacing current tarmac driveways in Sheffield with a new wearing course is generally the quickest way to refresh your drive without disrupting your daily schedule. You'll be able to get back to using your driveway rapidly, with the bare minimum expense or hassle. That's why tarmacadam is the preferred choice for pothole repairs in Sheffield.
Tarmacadam can come in red or black, with the option of personalised edgings such as decorative stones, kerbs and other features. Additionally, it is:
Fitted quickly in comparison to some other methods
Extremely durable and long-lasting
Suitably weather resistant, lowering the risk of weathering as time passes (whilst still preserving safety for vehicles).
Contact Northern Driveways Sheffield
Included in our Site Assessment and Quote Service for tarmac driveways in Sheffield we'll explore your requirements and offer help and advice, looking at all the possibilities to you. Many people are becoming more aware of tarmac surfacing, realising that it's not only a suitable replacement for concrete but that it is also economical. We're also able to offer a reprocessed tarmac option as another cost competitive solution. We are fully equipped to take on a complete range of tarmacing jobs, from small to large scale, using quality assured materials which are able to lay all tarmacadam surfaces.
Northern Driveways Sheffield
250 Hurlfield Rd
Sheffield
,
South Yorkshire
S12 2SL
UK